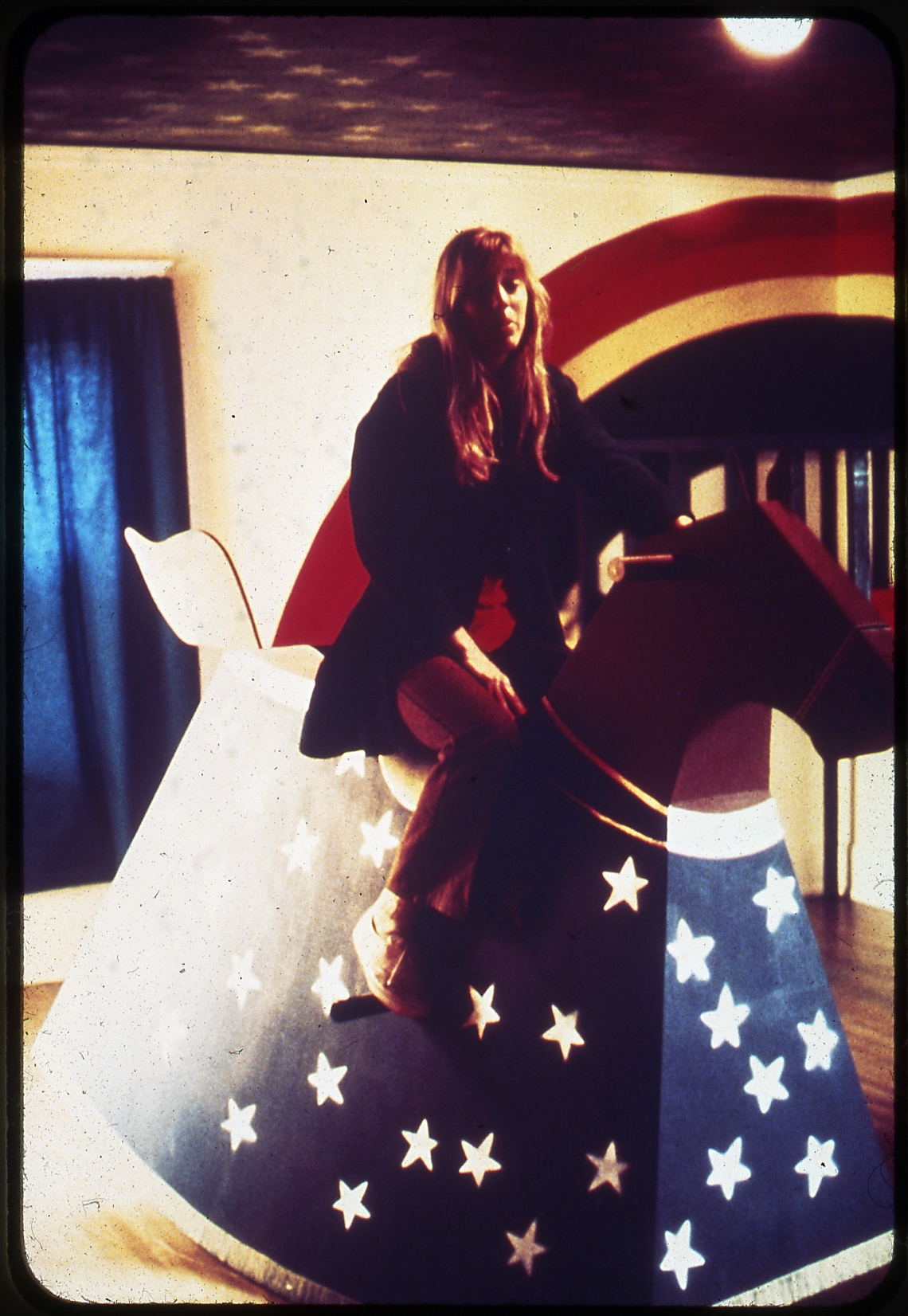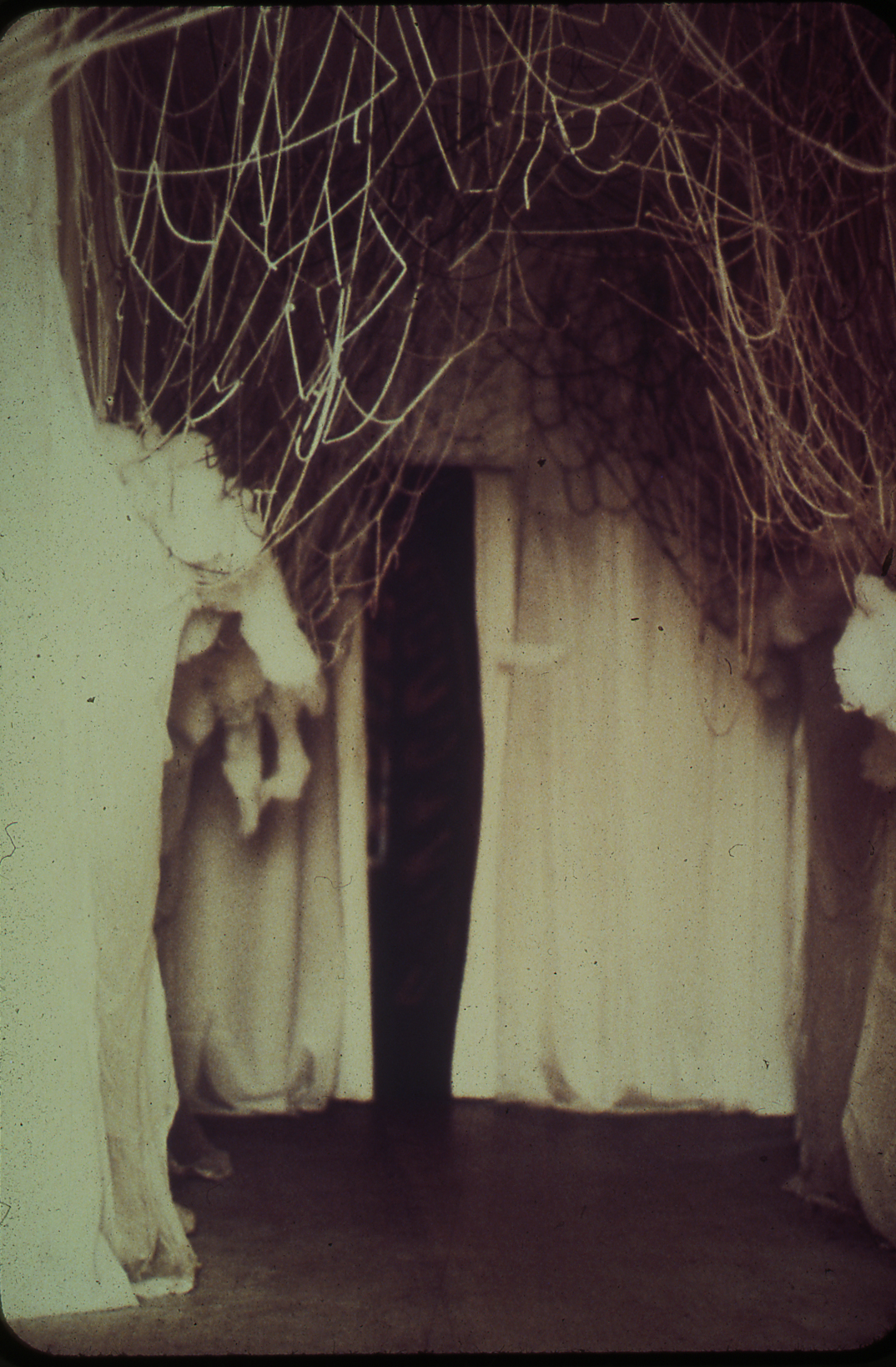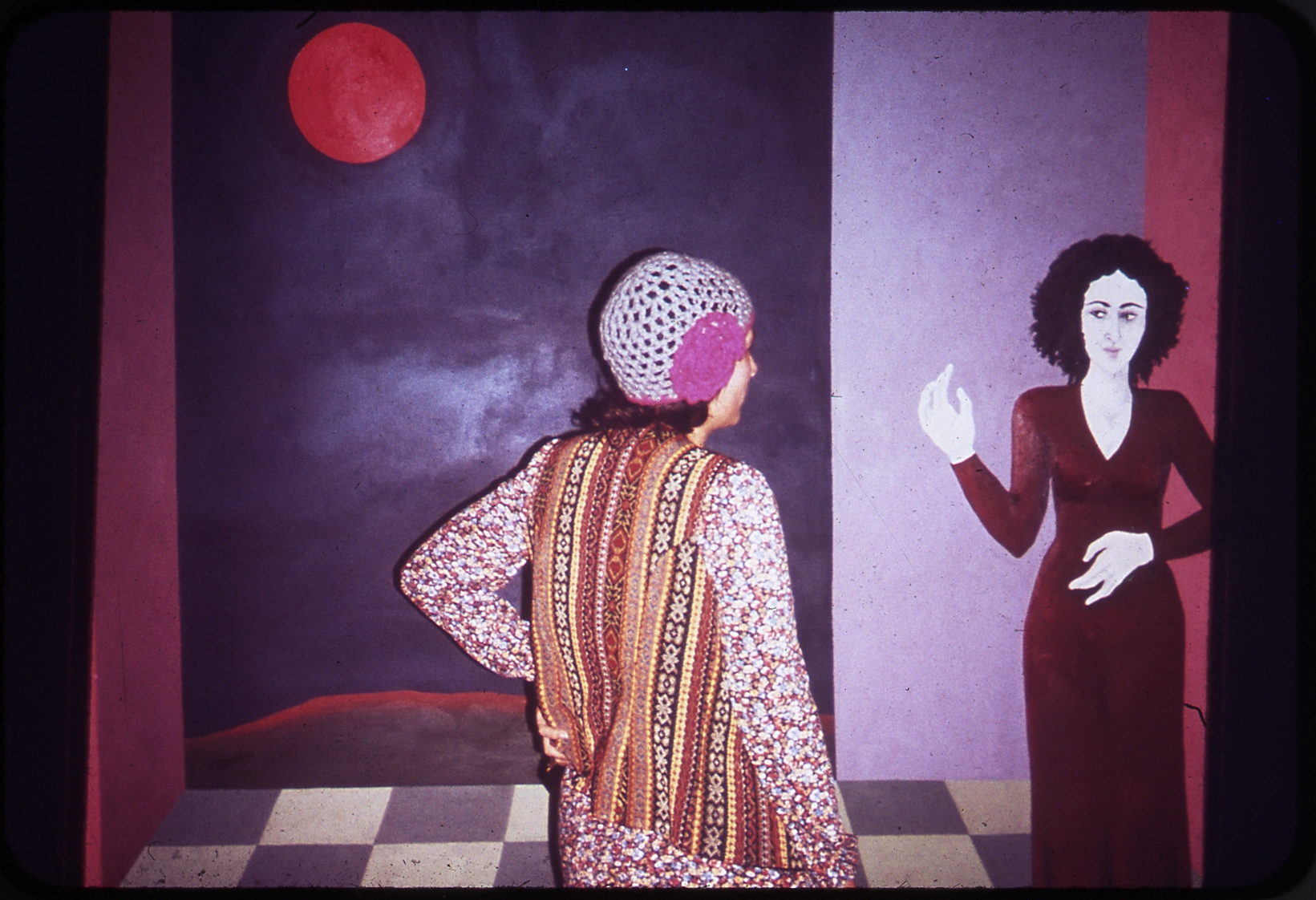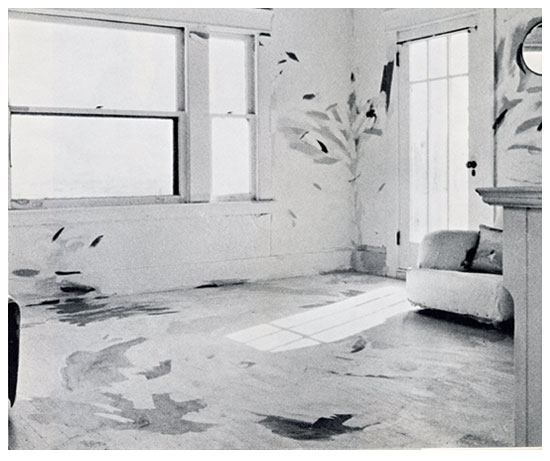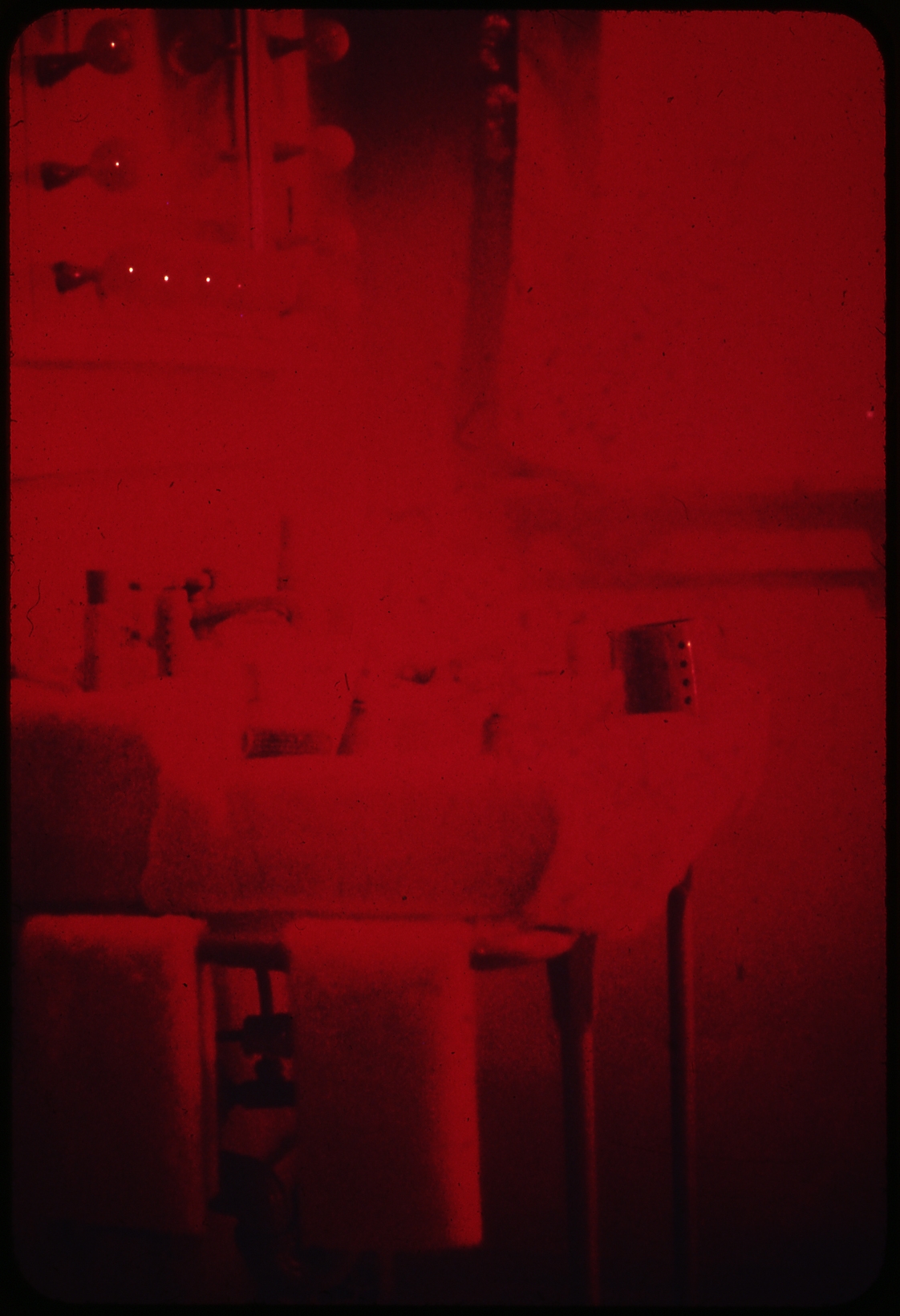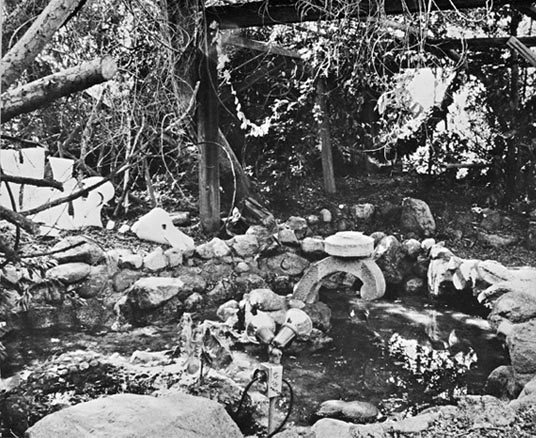 Linen Closet
Sandy Orgel
As one woman visitor to my room commented, "This is exactly where women have always been—in between the sheets and on the shelf." It is time now to come out of the closet.
- Sandy Orgel
The Dining Room
Beth Bachenheimer, Sherry Brody, Karen LeCoq, Robin Mitchell, Miriam Schapiro, Faith Wilding
The Dining Room had an aura of heaping and generous romance. It was a room that was outrageously elegant and beautiful; a classic room of traditional proportions where life was presented as it hopefully might be. It was a place where good things flowed forever, a permanent feast, a delight to the eyes, a palette of the senses, an indulgence in rich texture; real and illusory.
The fruit and flower molding around the ceiling we painted to look life-like. The mural, patterned after a 19th century still life by Anna Peale, was enlivened to make the mouth water. Many women, working side by side, painted the mural at the same time. It was a miracle, for as we painted, each in her own style, we made many mistakes but the sheer bravado of willing it to work created a compellingly strong yet traditional image. The sensuously painted peaches, the overripe watermelon, the freshly baked bread, the eggs, and the flowers all combined to make the lush illusion we hoped for. As for the table itself, we created bread dough sculpture after super rich color photographs from cook books, fantasies to make one's stomach yearn. We created a turkey, a ham, an irresistible pecan pie, a vinyl salad bowl collapsing and enfolding its pale green organdie lettuce leaves into a state of engulfment. The vinyl glasses and wine bottle on the table were all leaning on each other, in sensuous contact as though drunk on their own crystalline beauty. The Chandelier was animated with delicate electrical work. We created a giant oval dining room table with a lemon-yellow tablecloth echoed in curtains which admitted light and sunshine to the mauve and plum colored walls. We painted a rich stenciled rug on the floor, better than a real one.
The Dining Room represented a greater collaborative effort than any other room in the house. Seven women painted walls, ceilings, mural, molding, sewed curtains, tablecloth, plates to hold the food; stitched and fashioned the chandelier, baked bread dough and constructed the table. Seven women behaving as adults and pretending like little girls that this giant dollhouse room was real…
The Dining Room (detail)
Beth Bachenheimer, Sherry Brody, Karen LeCoq, Robin Mitchell, Miriam Schapiro, Faith Wilding
The DIning Room (detail)
Beth Bachenheimer, Sherry Brody, Karen LeCoq, Robin Mitchell, Miriam Schapiro, Faith Wilding
The Dining Room (detail)
Beth Bachenheimer, Sherry Brody, Karen LeCoq, Robin Mitchell, Miriam Schapiro, Faith Wilding
The Dining Room (detail)
Beth Bachenheimer, Sherry Brody, Karen LeCoq, Robin Mitchell, Miriam Schapiro, Faith Wilding
The Kitchen
Robin Weltsch
The soft skin of a kitchen pink
Is openers, strainers, blenders
Is cups, pots and hot ovens
Is boxes, cans and glass packages
Is faucets and nippled knobs
A toaster, juicer and waffler
All pink skinned
How would you like your eggs done
this morning?
- Robin Weltsch
Eggs to Breasts
Vicki Hodgetts
We had a consciousness-raising session on kitchens. Some people saw kitchens as fulsome, warm, nurturing. Others saw kitchens as dangerous with hot stoves and sharp knives ("Viciousness in the kitchen—the potatoes hiss"). I had a fleeting image of fried eggs stenciled over everything—walls, ceiling, floor—and some people saw breasts. Breasts were nurturing—kitchens were the extension of mothers' milk. I felt a little railroaded. I still wanted eggs. And then Robin said, "Why not have a transformation from eggs to breasts," and we were all delighted. And that's very important, because although I was the one who finally carried through that aspect of the kitchen (in the main) the idea was really a collective one. It simply would never have existed if women had not tried to work together.
- Vicki Hodgetts
"Eggs to Breasts" and "Curtains"
Vicki Hodgetts, Wanda Westcoast
Aprons in the Kitchen
Susan Frazier
Come in, east…please put on the apron strings and experience the heart of the home with me.
The outside is no longer with you, you are now embraced by my nurturing pink womb, giving life—sustaining milk from my breasts. The umbilical cord has been cut through, and you must hold on to the apron strings real tight or you might (gasp)…have to rely on yourself…tisk, tisk!
I must work harder to sustain life for you, to meet your biological needs, feed your habits with habits…I am a habit to you! I am not a habit! Release me, let me go, you don't know me, you don't own me. I am a human being, not just a source of cheap labor for lazy people.
I want to undo these apron strings, to see what the rest of the world is doing, to see if I can help…to see myself once again. I want to travel, to see wonders I only dream of daily…to see wonders I only dream of daily, right here in the heart of the home façade.
-Susan Frazier
Menstruation Bathroom
Judy Chicago
Menstruation is something women either hide, are very matter-of-fact about, or are ashamed of. Until I was 32 years old, I never had a serious discussion with my female friends about menstruation. The bathroom is an image of women's hidden secret, covered over with a veil of gauze, very, very white and clean and deodorized—deodorized, except for the blood, the only thing that cannot be covered up. However we feel about our own menstruation is how we feel about seeing its image in front of us.
- Judy Chicago
Laundry Room
Beth Bachenheimer
(also visible Judy Chicago's Menstruation Bathroom, detail)
Bridal Staircase
Kathy Huberland
When I was young I had a belief that the White Knight would come and carry me off to eternal protected bliss. I lived with this fantasy and did not think too far beyond a dreamy white wedding day. My piece deals with the not so dreamy reality that, for most women, lies beyond that wedding day. The bride is portrayed as an offering—encased in gaiety, in lace, in flowers, in dreamy sky blue. As the bride descends the stairs the blue slowly changes to gray and the bride's failure to look clearly at where she is going leaves her up against the wall.
- Kathy Huberland
The Nursery
Shawnee Wollenman
The nursery is the place where we spend much of our very early life, the environment in which most of our early learning and experiencing takes place. It is the room which occupies much of the mother's time both in planning before her child is born and in caring for the child after it is born. I created a room with giant furniture and toys in order to recapture the childhood feeling of being so small in such a big room. I also looked at the room from the viewpoint of a woman considering what the ideal living space might be for a child. I have made the room as androgynous as possible because my early memories are of having no sex and being able to do all the things that boys and girls do.
- Shawnee Wollenman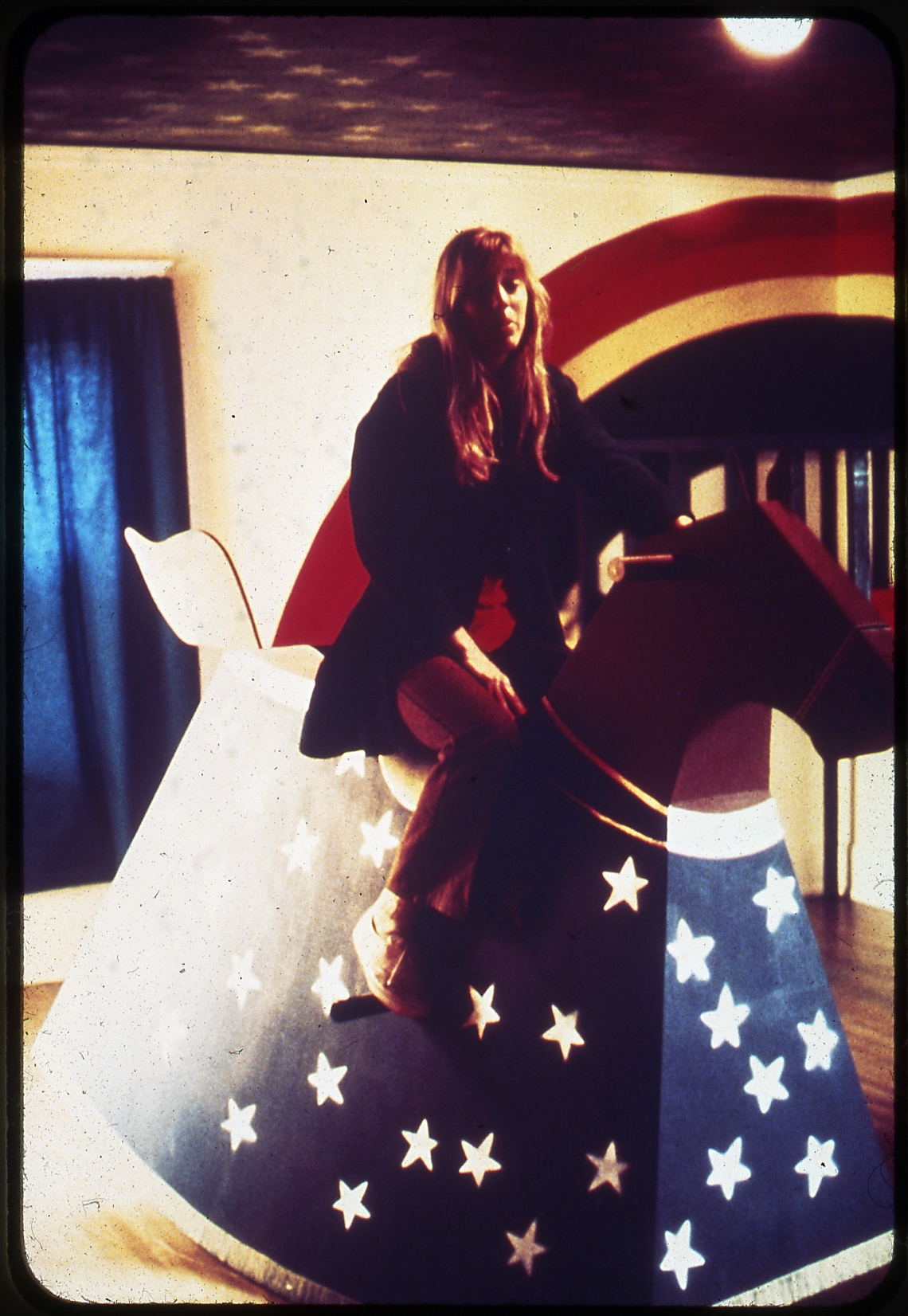 Crocheted Environment
Faith Wilding
Our female ancestors first build themselves and their families round-shaped shelters. These were protective environments, often woven out of grasses, braches or weeds. I think of my environment as linked in form and feeling with those primitive womb-shelters, but with the added freedom of not being functional.
- Faith Wilding
Shoe Closet
Beth Bachenheimer
Stacks of shoes have been one of women's most popular obsessions. There are all kinds of shoes for all kinds of special occasions—and there are so many special occasions!
The process of creating this shoe-filled environment was itself obsessive. I collected hundreds of shoes and painted or treated each shoe individually. For example, a pair of spike heels is decorated with real spikes, driven all around the bottom of the shoe.
-Beth Bachenheimer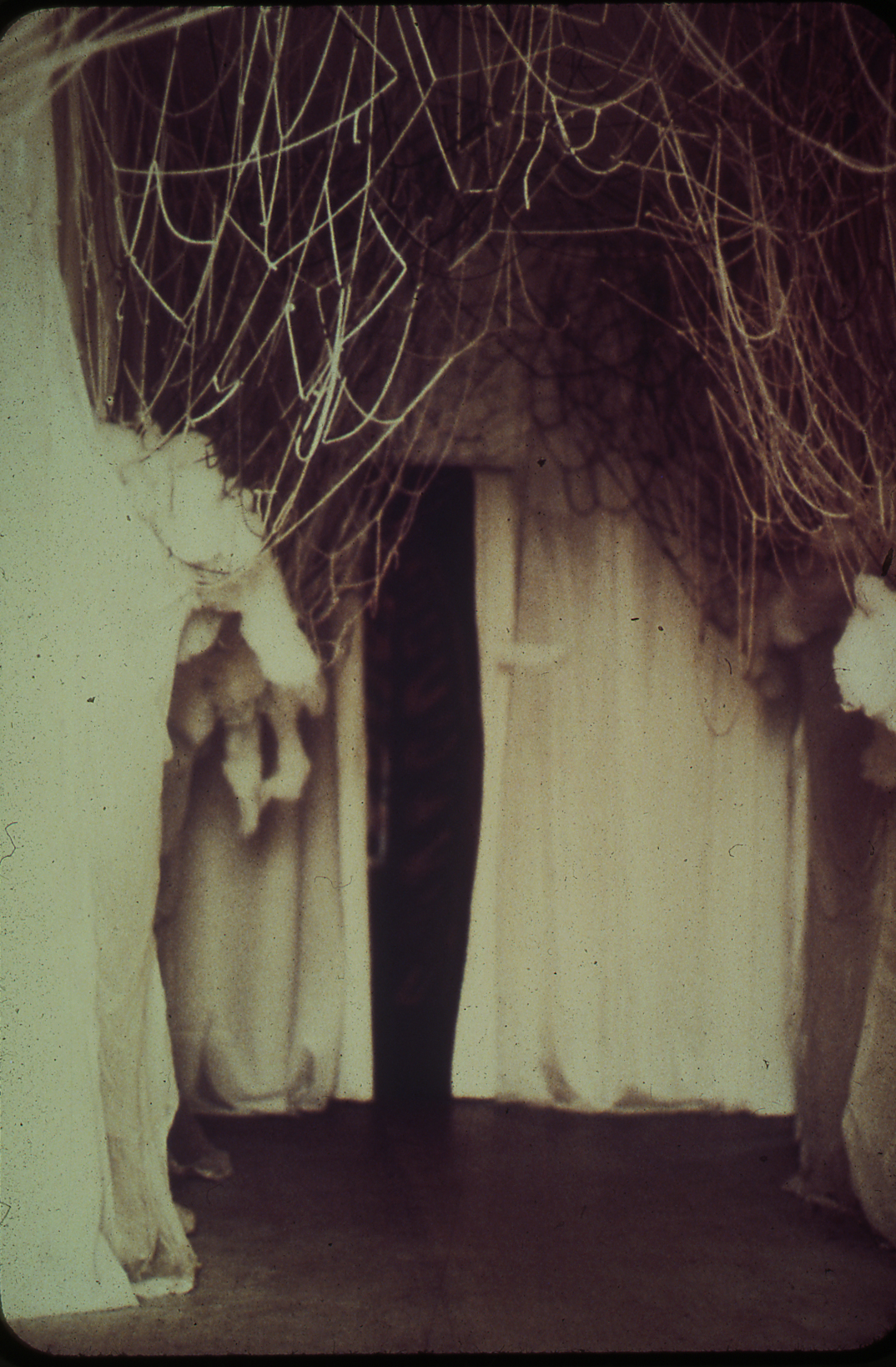 Personal Environment
Judy Huddleston
A wish for otherness. A space in which you are surrounded by an entirely different world aura, transcending the established plane.
- Judy Huddleston
Red Moon Room
Mira Schor
The Red Moon Room painting is about the night, the rising moon, the blood-red moon, about rolling hills and purple and pink and red and green and blue. When the painting was finished I realized that the room also is the dark side of myself, midnight moon blood red dark purple Mira, the pointing and pointy Mira of the awry perspective who sometimes feels only she really owns the moon.
-Mira Schor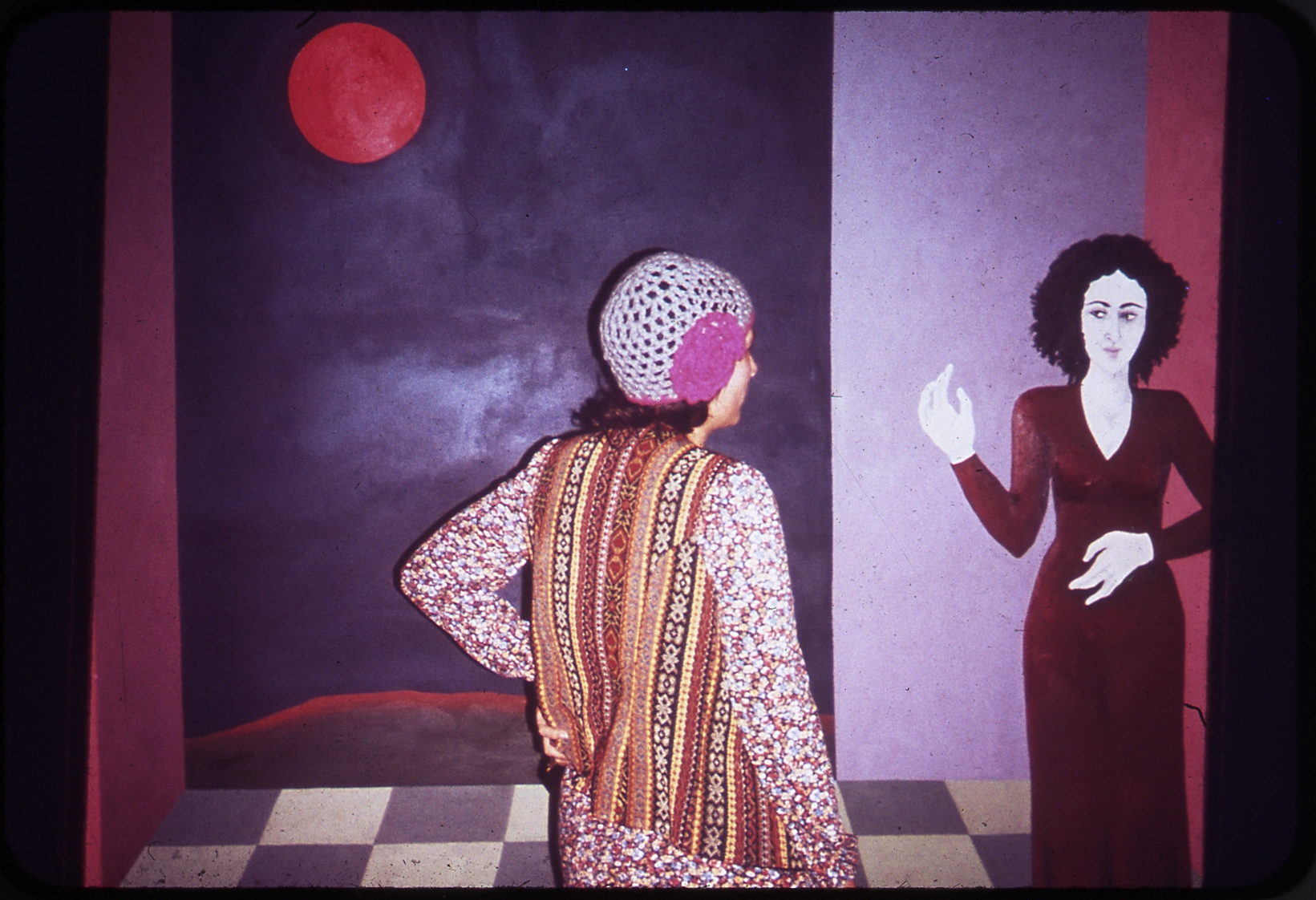 Leaf Room
Ann Mills
I was initially attracted to this room by its oval ceiling and the leaves outside the windows. The leaves grew into large shields for me, behind which I could hide, while at the same time they revealed what I was. As the leaves developed they began to form a cycle. Externally they were the seasons, with the inevitable life and death, while internally they were a cycle of feelings which burst forth, gradually subside and then return to the past to begin again.
-Ann Mills
Nightmare Bathroom
Robin Schiff
Even though the bathroom can be a refuge and a private place, I have always been afraid there. It is not a rational fear.
It may stem from the fear I had in childhood of being sucked down the drain with the water, the ritual of confronting my nakedness, staring at my face in the mirror, the fear of being intruded upon. I wanted to convey the idea of vulnerability. The woman in the tub is made completely of loose sand. Sand is able to take a shape and retain its vulnerability at the same time. By the end of the show she was eroded by fingerprints.
-Robin Schiff
Nightmare Bathroom (detail)
Painted Room
Robin Mitchell
To make a painting that is a room,
To make a room that is a painting,
Color on the floor, on the walls,
on the furniture, on the ceiling,
To fill the room with color
as the sun fills the room with light.
-Robin Mitchell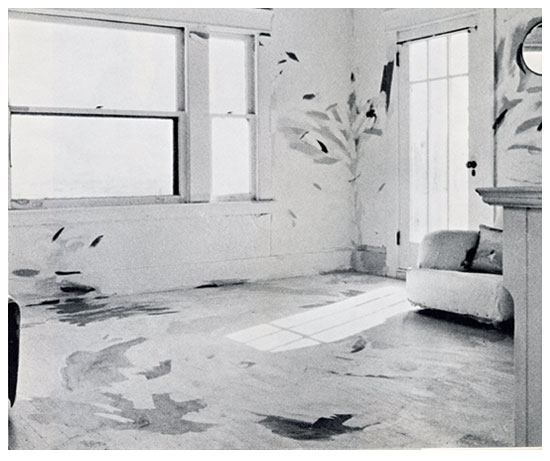 Lipstick Bathroom
Camille Grey
She cannot take a bath
The tub is lined with fur
200 plastic lipsticks
painted repeated colors
that will not
stain her lips.
Her panties have been sprayed
Bras have been colored
The room and all that entered
have been painted
lipstick red.
Stage lights go on
setting the room ablaze
her hair is red
her lips are red
her gos is red
She is hot
The cameras roll.
She has a name
She is a woman
and for a moment
she is everything
yet it is so absurd
this stage.
-Camille Grey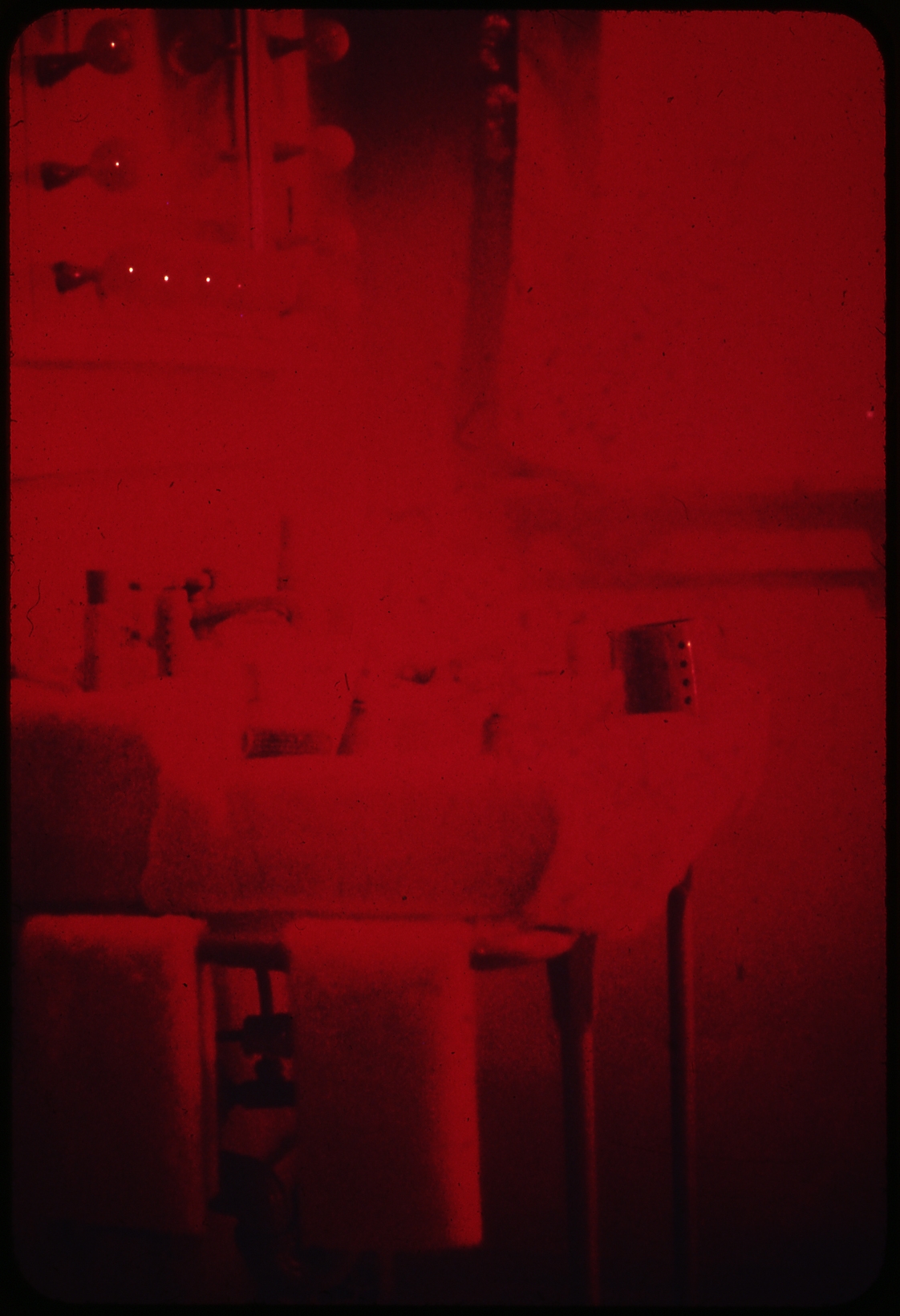 Personal Space
Janice Lester
The idea for my room began with a dream:
I dreamed I had a new bedroom. People came to visit me there, it seemed like a nice place. But when I was alone again, I discovered a secret room where only I could go—fantasy became reality there and everything was beautiful. Compared to this inner room, the outside room was dull and drab. Later I realized that the inner room represented the art that never gets made, the richness that most people, especially women, keep locked inside themselves. Then I saw that the secret room was a trap as well as a sanctuary, and that's why, when I'm inside the room I built, it is both beautiful and frightening.
- Janice Lester
Garden Jungle
Paula Longendyke
I chose animals as my subject matter because I identify with the quality of vulnerability in animals. In this world they are weak, unprotected; they can easily relate to this state of existence. I wanted to deal specifically with prehistoric animals…dead skeletal forms. The picture I want to create is of walking through a dimly lit, remote jungle about 50 million years ago, discovering large pearly white bones of magnificent creatures. The skeletons lie there exposed, open, sad. Strange tropical plant life offsets the browns of old decaying plants. In the evening, the jungle is quiet with the exception of a trickling waterfall.
- Paula Longendyke
Lea's room
Karen LeCoq
Nancy Youdelman
Lea's room is a room of lush beauty and suffocating oppression. The strong, pungent smell of magnolia, the pinkness of the wallpaper roses, the hats with veils to soften an aging face all create this feeling of oppression and decadence. Enmeshed in this suffocating environment was the courtesan Lea, a woman desperately trying to save her fading beauty. Her beauty was her life. Beauty made her pleasing to the gentlemen, obtained her favors, gave her wealth and friendship.
The performance piece done in this room, in which a woman incessantly applies layer after layer of makeup, portrays the pain: the pain of again, of losing beauty, pain of competition with other women. We wanted to deal with the way women are intimidated by the culture to constantly maintain their beauty and the feeling of desperation and helplessness once this beauty is lost.
- Karen LeCoq
- Nancy Youdelman
Lea's Room
Karen LeCoq
Nancy Youdelman
Lea's Room
Karen LeCoq
Nancy Youdelman
Dollhouse Room
Sherry Brody and Miriam Schapiro
All of my work is inspired by a sense of intimacy. I choose to make my art out of a need to express strong female feelings. All of my life I have sewn objects. Beginning with real clothing, I eventually formalized my work so that soft sculpture emerged from sewn garments. The Peignoir Dress reflects this transformation. The Lingerie Pillows and the Pilllowquilt represent my interest in using fabrics in a more direct way. I want people to approach my art on a very sensual plane.
- Sherry Brody
Dollhouse
Miriam Schapiro
The Dollhouse combines the beauty, charm and supposed safety and comfort of the home with the unnamable terrors existing within its walls.
As you peer inside each sumptuous and ordered room, the organic harmony implicit in nesting becomes evident. Real and imaginary invading creatures, however, disturb the serenity. There are birds pecking at rocks in the seraglio, a rattlesnake curled up on the parlor floor. Outside the nursery window, a giant grizzly bear stares at the monster in the crib, while the real baby sits nearby in an alabaster egg, menaced by a scorpion, unmindful of the alligator resting on a shelf in the bookcase. Ten men stare in at the kitchen window, representing a mysterious menace from the outside. There is also a studio, since we are both artists. Here we switch the usual roles of artist and model. The artists are women and the model is a man. Taking a cue from Linda Nochlin, the feminist art historian, we reverse the association of fruit and "women as object," by placing a tray of bananas at the model's feet. A further reversal is to put one of my abstract paintings on the easel and some of Sherry's costume drawings on the wall, ignoring our poor model altogether. The Dollhouse within the walls of Womanhouse echoes the feelings of a Woman's place and reminds us of the magic of childhood, fantasy control over the tremors of the heart.
- Miriam Schapiro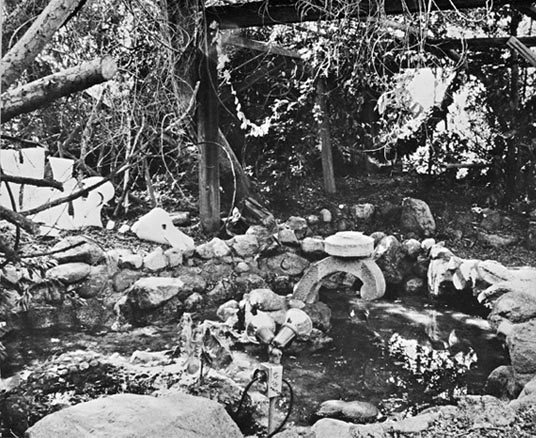 Necco Wafers
Christine Rush
I wanted to create a fantasy sky and a fantasy ground in the garden. I used colors, pastels, that were totally in contrast to the real organic colors of the garden. I painted the ground with turquoise, pinks, blues, pale greens, yellows and lavender. I made some fanciful clouds that were exactly like drawings I had done of clouds when I was a young child. I wanted the ground to sort of float in the garden and seem unreal.
-Christine Rush
Please note, the following texts appeared next to images of same artworks in the original exhibition catalog from 1972.